Laura W. Lamps, MD, begins term as President of the United States and Canadian Academy of Pathology
By Lynn McCain | April 15 2021


Dr. Laura W. Lamps, the Godfrey Dorr Stobbe Professor and Director of Gastrointestinal Pathology and the director of the GI Pathology Fellowship Program, can now add President of the United States and Canadian Academy of Pathology (USCAP) to her list of titles. Dr. Lamps assumed this leadership role on April 1, 2021. She joins a long list of presidents from Michigan Medicine, including Drs. Joel Greenson, Jeffrey Myers, Henry Appelman, Peter Ward, Murray Abell, and A. James French.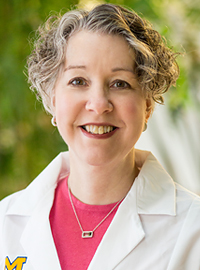 The USCAP is "dedicated to creating a better pathologist through providing the ultimate in continuing medical education and translational research to improve practices and patient outcomes globally." During her presidency, Dr. Lamps' priorities include: 1) ensuring USCAP education is well-positioned to provide education, regardless of future challenges such as the COVID pandemic; 2) ensuring governance of the organization is current and follows best practices; and 3) finding ways to operate in a more environmentally sustainable manner.
Please join us in congratulating Dr. Lamps on this outstanding leadership position.