Telepathology: A Prime Application of Digital Pathology
By Lynn McCain | January 20 2021


Technological advances have made telepathology a reality for many pathologists, allowing challenging case consultations regardless of where the expert may be located.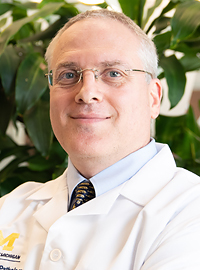 Recently, Dr. Liron Pantanowitz, Director of Anatomic Pathology, presented a keynote address entitled,"Telepathology: Still the #1 Application of Digital Pathology" at the 7th Digital Pathology & AI Congress: Europe, December 1, 2020. In his presentation, Pantanowitz discussed the advances seen over the past three decades along with examples of how telepathology is making a difference for patients and healthcare providers today. This well-received talk was highlighted by Mr. Mark Nicholls, from Healthcare In Europe, an online medical news outlet. Nicholls' story was recently published, Telepathology: A Prime Application of Digital Pathology.
The Department of Pathology has been using telepathology for several years to serve patients around the globe. Supported by our in-house Pathology Informatics division and exceptional faculty, it is part of the Michigan Difference that sets us apart from other departments. Thank you, Dr. Pantanowitz, for representing Michigan so effectively to the global community.
–
The full publication in Healthcare in Europe is available here.